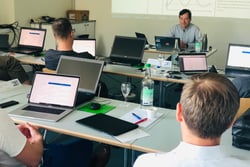 Unter kundiger Leitung von Matthias Gessenay fand letzte Woche das harte, viertägige Azure Bootcamp im schönen Spiez statt. Das hochgesteckte Ziel galt dem Abschluss als "Microsoft Certified: Azure Solutions Architect Expert". Vier Mitarbeitende von UPGREAT erhielten so tiefen Einblick in die Lösungs-Architektur und das Design von Azure:
Deploying and Configuring Infrastructure
Implementing Workloads and Security
Understanding Cloud Architect Technology Solutions
Creating and Deloying Apps
Implementing Authentication and Secure Data
Developing for the Cloud
Designing for Identity and Security
Designing a Data Platform Solution
Designing for Deployment, Migration and Integration
Designing an Infrastructure Strategy

UPGREAT sieht die Zukunft der IT in der Symbiose von On-Premises, Private Cloud und Public Cloud Services (Office 365 und Azure), welche zunehmend in Form einer Multi-Cloud genutzt werden. Die Kunst und gleichzeitig grösste Herausforderung hierbei ist, aus den unendlich vielen Möglichkeiten und Varianten, die am besten passende Lösung zu finden. Als Gold-Partner mit einem Premier-Support von Microsoft, können wir den höchstmöglichen Servicegrad der Microsoft-Cloud direkt, rasch und mit einem persönlichen Vis-a-Vis anbieten.